The SD card has been given high credits in terms of storing pictures and video clips over the years. You can insert it into a camera, a smartphone, a monitor, and any other device.
We all store data safely on a memory card. These cards come in several forms, such as an SD card, a microSD card, and a memory stick. But what is the difference between them? And which one is right for you?
Designed to serve different needs, there are three main types of SD cards and it's not an easy job to select the best memory card for the camera, Windows PC, and Macs. This post gives a brief introduction to three major memory cards and lists the top 5 memory cards so far, along with handy SD recovery tips.
Today, we're going to answer those questions and more to help you choose the right memory card for your needs.
Types of the SD card
Based on storage capacity
Overall, there are three mainstreams in the memory card market, SD, SD High Capacity, and SD Extended Capacity. Each one of them enjoys outstanding specifications.
SD
Capacity range: 128MB to 2GB
Default file system: FAT16
Speed: Up to 10 MB/s
As the basic and oldest type of memory card, the SD card is relatively larger than the other two types in size and is usually used in cameras and PC computers.
SD High Capacity
Capacity range: 4GB to 32GB
Default file system: FAT32
Speed: Up to 90 MB/s
The SD High Capacity card can be considered a level up to the previous standard SD card. It marks one step ahead in data transfer speed and storage capacity.
SD Extended Capacity
Capacity range: 64GB to 2TB
Default file system: exFAT
Speed: Up to 90 MB/s
Compared with the above two memory cards, the SD Extended Capacity card is a much more powerful and faster SD card with higher storage space, faster data-transfer speed, and a different format.
Types of SD cards based on the physical size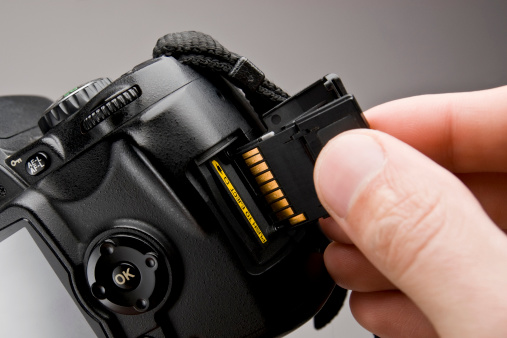 There are many different types of SD cards to choose from, but the two most common are microSD and SD cards. MicroSD cards are the newer version of the two and are smaller in size. MiniSD cards were more popular when they were first released, but they've since been phased out by microSD cards.
MicroSD Cards
MicroSD Cards: removable flash memory storage card (15mm wide by 11.5mm long by 1.4mm thick) that is used for storing information and media files, chiefly used in mobile phones, cameras, and digital cameras. You can get them in tablets too such as micro-SD cards for surface pro.
It is important to note that they are compatible with a full-size SD card both electrically and on the software used. Moreover, you can use a digital card reader to access a microSD card in the same port as an SD card.
MiniSD Cards
Mini SD cards are larger than MicroSD cards but smaller than the original SD cards. They are thus a removable flash memory storage card that measures 20mm wide by 21.5mm long by 1.4mm thick.
Like a microSD card or SD card, a miniSD card is used for storing information and media files, chiefly used in mobile phones, cameras, and other handheld devices.
SD Cards
The SD cards are the oldest of the different memory cards to be introduced. They measure 32mm long by 24mm wide by 2.1mm thick. The largest memory card available at the time, the SD cards are now available in a wide variety of sizes and storage capacities.
The original SD card was available in 1999 with a capacity of 32 MB and the storage size of the standard Secure Digital (SD) Card, which is 2.1 mm thick. With an SD card, you can use your phone to take pictures and even videos!
SD Cards are Removable flash memory storage card (25mm wide by 32mm long by 2.1mm thick) that is used for storing information and media files, chiefly used in mobile phones, cameras, and digital cameras.
An SD card is a small storage device that can be plugged into your phone to increase the phone's storage capacity or to transfer data from one phone to another.
This allows the user to store more data on the phone because it has more space than when using native storage options like an internal hard drive or an external USB drive.
The SD cards can be formatted with a FAT32 file system which means they can only read 3GB at a time but will work with most devices on the market today.
Top 5 memory cards in 2022
Each type of SD card has its targets. One might be suitable for normal users while another might be professional photographer's pick. The listed top 5 SD cards cover multiple scenarios and hope you can find the one.
SanDisk Extreme PRO UHS-I Card
Memory: Up to 512GB
Card Type: SDXC
Read speeds: up to 90MB/s
Write speeds: up to 170MB/s
The SanDisk Extreme PRO enjoys massive popularity and has been the best seller in the SD card lineup for years. It specializes in shooting 4K video and sequential photographs at high speeds.
Lexar Professional Class 10 UHS-II 2000X
Memory: Up to 128GB
Card Type: SDXC
Read speeds: up to 300MB/s
Write speeds: up to 260MB/s
Lexar is definitely one of the top dogs for photo enthusiasts and this SD card with UHS-II tech makes it undoubtedly a perfect choice for shooting Full HD, 4K video, or high-resolution photos.
SanDisk Extreme PRO UHS-II Card
Memory: Up to 128GB
Card Type: SDXC
Read speeds: up to 300MB/s
Write speeds: up to 260MB/s
With impressive reading and writing speeds, SanDisk Extreme PRO UHS-II stands top 3 in the best SD card list. The blazing-fast speed shows an advantage in terms of shooting wildlife, sports, and bursts of rapid-fire stills.
Transcend SDXC UHS-II U3
Memory: Up to 64GB
Card Type: SDXC
Read speeds: up to 285MB/s
Write speeds: up to 180MB/s
Transcend SDXC UHS-II is one of the ultimate SD card solutions in terms of performance and reliability. It offers superb reading and writing speed, fast enough to capture sequential burst mode photography.
Lexar Professional 633x UHS-I
Memory: Up to 1TB
Card Type: SDXC
Read speeds: up to 95MB/s
Write speeds: up to 45MB/s
Remarkably, Lexar offers a reliable SD card with a large capacity of up to 1TB.  It manages to keep the size small enough to be carried out by photographers and videographers while maintaining a fair data-transfer speed. 
Tips for SD card users
The SD card is physically vulnerable due to everyday wear and tear. Besides, logical issues may occur as well. Below are some tips for SD card recovery on Mac.
Quit using the memory card as soon as an issue occurs. To keep writing data to a problematic SD card can result in overwriting the previous data and cause data loss.
Think before reformatting the memory card. Reformatting a card is one straightforward way to have a new start at the cost of losing all files. So, think twice before formatting.
Use professional and virus-free data recovery software if data loss happens. It's highly likely to lose data if your memory card gets damaged or corrupted, in that case, a trustworthy data recovery tool can save you lots of effort.
Things to Consider When Selecting an SD Card
When selecting an SD card for your device, you need to consider which type of card you need.
The first consideration is the physical size of the SD card. If your phone has a microSD slot, you'll want to make sure that you purchase the microSD card. There are also miniSD cards and SD cards; if your phone has either of these slots, then you'll need to decide which one of those two will work best for you.
Next, it's important to consider what format the SD card uses (exFAT or FAT32) as this will determine how it can be used on different devices.
Another thing to consider is how much storage space the SD card has. It's important to have enough storage space on your SD card so that it can store all of your files without any difficulty.
In addition to this, it's important to make sure that the SD card speed is sufficiently fast so that there aren't any delays when trying to access data stored on it. The working speed also determines how many times a file can be written or erased before its lifetime ends (supported write/erase cycles).
Lastly, we recommend checking out reviews from other customers before making a decision about which brand and model of SD card will work best for you!
What is the difference between MiniSD Card and a microSD card?
The main difference between a microSD card and a miniSD card is the Size, weight, usage, and operating systems.
One of the most popular types of SD cards is the microSD, which are significantly smaller than the standard SD card. MicroSD cards have a very small form factor, which makes them more convenient to carry around. They're also lighter and thinner than standard SD cards because they don't require a plastic casing like standard SD cards do.
The downside to microSD cards is that they can break more easily since they don't have the same level of protection as standard SD cards.
The miniSD card is a type of SD card that are not as small as the microSD card. Unlike other types of SD cards, miniSD cards use a different type of connector and aren't compatible with all devices that use an SD card slot.
This can be problematic for people who want to move data from device to device because they won't be able to do so with their miniSD card unless they purchase an adapter.
The difference between these two types of SD cards seems obvious when it comes down to size and weight, but there are other differences too.
For example, microSD cards are typically used in mobile phones and tablets whereas miniSD cards are typically used in digital cameras due to their different connectors.
Additionally, both types of SD cards will work on any device that has an SD card slot regardless if it has a USB port or not whereas miniSD only works on devices without USB ports.
Is SD card good for storage?
An SD card (memory card) is one of the most reliable and durable storage devices on the market. As long as you have a healthy file management system, you can expect your files to stay safe for a long time.
The SD cards that are best for storage are SD cards and microSD cards, which both offer up to 128 GB of storage space. You'll pay more for these cards than other types, but it will be worth it considering the amount of space it offers.
The only downside with these types of cards is that they're not very fast in terms of speed; they're typically on the slower side when it comes to reading and writing data, which could make things frustrating if you're constantly transferring large amounts of data.
If speed is your main concern, then you might want to get a miniSD card or an SD card with a full-size adapter (called an SDHC). These types of cards offer much faster read-write speeds and come with a higher price tag as well.
If you don't need quite as much storage space, then this would be the better option because you're paying for more than just storage space.
Is SD card necessary?
Depending on the device you have, you may or may not need an SD card. Some devices come with a fixed size of internal storage and some devices allow for a user to expand the internal storage.
If your phone does not come with an SD card slot, then you will want to use an external hard drive or cloud storage to store your files. However, if your device does have an SD card slot, then you may want to buy an SD card so that you can store more data.
Many people don't know what kind of SD card they need in their phone because there are three different sizes: microSD cards, miniSD cards, and standard SD cards.
Related: Best SD Card for Dash Camera
Conclusion
It's important to know what you're doing when it comes to SD cards so that you can get the most out of them. We've talked about how an SD card is a digital memory card, how you can use them for music, video, and photos, and the differences between microSD cards, miniSD cards, and SD cards.
FAQs on SD Cards
What are the advantages of an SD card?
There are several advantages of an SD card including:
* You can use an SD card to store files and media.
* They're portable because they can fit in your pocket or purse.
* You can transfer photos and videos between devices with a memory card reader.
* They're inexpensive, so you don't need to spend a lot to get started.
What are the disadvantages of an SD card?
There are a few disadvantages of SD cards including:
* MiniSD cards are not as popular as microSD cards or SD cards.
* The installation process for microSD cards is more complicated than it is for other types of SD cards.