Speaking from our own experience, how to pick the best gaming laptop, and the very best one at that, is not easy. Yep, even for seasoned gamers like us. After all, it's not really one aspect that you have to look at while considering purchasing a laptop.
For example, if you are more of an HD gamer, you will probably have to look for a device with a high-end display. Conversely, in case you were thinking about playing games like Elden Ring, you have to focus on the processor and GPU.
Don't worry, though.
We have covered the aforesaid subjects much more prominently in the next section of our writing. So, let's get on going with it.
Buying The Best Gaming Laptop – A Step-By-Step Guide 
Honestly, finding the best possible game in the world is pretty straightforward. All you need to do is to visit RarBG, write the name on the search tab, and download it for free.
Nonetheless, finding a gaming laptop will not be as easygoing as downloading Elden Ring from a torrent website. For that, you will have to focus on the following aspects. 
If you've done any research on the best gaming laptops, you'll know that there are a plethora of options and features to choose from.
The first thing to look for when buying a gaming laptop is the type of graphics card. If you want a laptop with top-notch graphics, then you'll need a computer that has an NVIDIA or AMD graphics card.
Next, you should consider the processor in your new gaming laptop. Processors are used to power everything from web browsing to video editing and more. If you want top-of-the-line performance in your game, then look for a CPU with at least an Intel Core i5 quad-core processor.
Thirdly, understand what kind of RAM is available in your prospective laptop. A laptop with 8GB of RAM will typically cut it if you only play games casually with low resolutions like 800×600–but if you're looking to play games on higher settings like 1080p resolution, make sure your prospective laptop offers at least 16GB of RAM.
Finally, take note of the hard drive space on offer; how much storage does it have? You'll be streaming lots of content from your hard drive when playing games so make sure the hard drive can accommodate all those high-quality visuals and audio files! Some laptops come with hybrid drives that combine both physical space and virtual space so this might be worth looking into if necessary.
Step – 1: Keep An Eye On The Display 
When it comes to display, the first thing you should look for in it is the resolution. If you are a fan of HD gaming, make sure to opt for a 4K monitor. 
Laptops range from 13″ to 17″, so make sure you pick the right one for your needs
Before buying a gaming laptop, it's important to think about these key factors. Do some research online or talk to a salesperson at your local electronics store. That way, you can buy the best gaming laptop for your needs and preferences.
Also, depending on the GPU and the processor you have, choose an 18-inch monitor at best. It will support almost every possible game without causing any overheating issues. 
Finally, the maximum refresh rate of a gaming monitor should always be 240Hz. This way, you can play almost any game at a high frame rate (more than 60 or 120). 
How to choose your Laptop Display
Before you invest in a gaming laptop, it is essential to consider the display. For example, do you want a laptop with a larger screen or one with a smaller screen? Is your budget more limited or does it allow for a more expensive option? These are some of the things that you need to think about before you invest in a gaming notebook.
Laptop displays have different resolutions, and these typically range from 720p all the way up to 4K. This will influence the quality of picture that you see on the screen. The higher the resolution, the crisper and sharper your picture will be.
Gamers need high framerates and refresh rates on their screens to ensure they get an optimal experience while playing games. If this is not something that is important to you, then it's worth considering which type of display would suit your needs best – especially if money is tight.
Step – 2: CPU Or Processor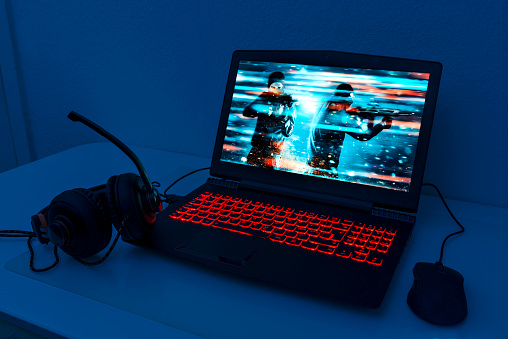 Choosing a CPU is much more straightforward than finding the display, as you have to focus on only two aspects here. 
The first one is the clock speed of the model. The higher the amount is, the faster or better it will perform while gaming or doing something else. 
The second one is the core count. It'll help the device in multitasking much more proficiently. Also, having a high-core CPU is ideal for overclocking. 
Step – 3: GPU Or Graphics Card 
The buying decision of a graphics card will solely depend on the monitor you have bought and the games you're willing to play. 
For example, if you have a 144Hz screen, you'll have to get a GPU that offers a 144 frame rate consistently. Nvidia 2080-Ti is an excellent example of this proposition. 
Also, many games these days come with the ray-tracing capability. If you want to activate the same while playing to improve your experience, you have to invest in a high-end GPU. 
Step – 4: Storage 
When talking about storage, you have to opt for both an HDD and an SSD. The former will help you create more space in your system, while the latter will increase your laptop's speed. 
For instance, when you are downloading a game, make sure to do it on your SSD. This way, it will write much quicker than usual. 
Once you're done with downloading the game, you can relocate it to your HDD (preferably 2 TB) to create enough space for getting another title. 
Step – 5: RAM 
Buying a laptop with 2GB – 4GB RAM is enough for performing some routine tasks on the internet. Nonetheless, if you want to play a high-end game, you'll require at least 16GB or 32GB worth of RAM in your system. 
Having state-of-the-art RAM will make your system much faster than usual. The games will not falter or crash anymore. You can also increase the graphic requirement of the same at your ease. Finally, it would help you in multitasking as well. 
Step 6- Design
The design of the laptop is one of the most important factors when choosing a gaming laptop. The best gaming laptops have superb design and will be ergonomically designed to fit your needs. They'll also have quality build materials so that you can enjoy a smooth experience for years to come.
Step 7- Inputs and ports
The ports and inputs on your gaming laptop are important to consider. In order to get the best gaming experience, you'll want at least two USB 3.2 type-C ports.
One is for power and another will be used to connect your device to a desktop or external monitor. You should also make sure that the laptop comes with an HDMI port so you can plug in your gaming monitor and play on the big screen.
Lastly, if you intend on using your laptop as a business machine, it's important that it has an Ethernet port so you can connect to the internet without running into Wi-Fi issues.
Step 8- Price
How much are you willing to spend? Gaming laptops range from inexpensive to expensive, with models that offer different features and quality levels
Other things to consider as you pick the best gaming laptop
Weight: You might want a lightweight model if you plan to take your laptop with you often
Operating System: Windows or MacOS? The choice is yours!
Which CPU and GPU are recommended for a gaming laptop?
The processor, or CPU, and the graphics card, or GPU, are two of the most important components to consider when buying a gaming laptop. A CPU will determine how fast your games will load and how smoothly they'll run.
Similarly, a GPU will determine how much power your graphics card has. When combined with the other components of your laptop such as the screen, storage size and RAM, these factors will help you determine which is the best gaming laptop for you.
For example:
Acer Nitro 5 AN515-55-53E5 Gaming Laptop which has An Intel Core i5 12600K with an Nvidia GeForce RTX 3080 would be a great choice for high-end gaming laptops. The Intel Core i5 12600K is an excellent CPU for general use and high-level gaming. It is also quite reasonably priced at around $230-$250.
The Nvidia GeForce RTX 3080 is an excellent GPU for medium to high-level gaming. This particular model has 8 GB GDDR6 video memory and supports real-time ray tracing technology that offers incredible rendering of light and shadows in real-time. The price ranges from $380-$400 depending on specific features (such as screen size).
Related: Best Monitors For Gaming
What memory and storage do we recommend?
Memory and storage is one of the key factors to consider when you're buying a gaming laptop. For even average productivity tasks, we recommend a RAM of 8GB. Most laptops come with at least 8GB of memory.
A higher RAM will allow you to multitask more efficiently and run more programs simultaneously without slowing down your system. That being said, we recommend at least 512 GB storage space for those who want a lot of flexibility with their laptop
For gamers, there are also specific things to look out for in terms of RAM and storage space. Gaming laptops often have 16 or 32 GBs of memory and gamers should also consider whether or not they need an SSD as well as the amount of storage they need on the SSD itself.
If you want a great gaming experience, make sure your laptop has enough memory and storage space!
What is the most important thing for a gaming laptop?
The most important thing for a gaming laptop is the GPU. The GPU, or graphics processing unit, is what makes the gaming experience possible. It handles all of the visual aspects of games, including drawing images and computing 3D effects.
The GPUs have evolved a lot over time, with newer models offering better performance than older models. And this will be one of the key factors you'll need to consider when buying your laptop.
For example, if you're not very concerned about battery life but want a laptop that offers high-end performance and can handle demanding games like Battlefield 1, then you should get a laptop with an NVIDIA GTX 1070 or higher graphics card.
But if you want something slimmer and lighter and are more concerned with battery life while still wanting a laptop that can play games like GTA 5 on low settings, then you should get a laptop with an NVIDIA GTX 1050 Ti or lower graphics cards.
The Final Take 
So, that's going to be all for this write-up. We hope that we could help you out as much as possible through this article. However, if you feel like we've written a wrong narrative here, make sure to let us know all about it. We'll keep it in mind for the future.
Buying a gaming laptop, especially in 2022, can be a tricky task, as there are loads of things to consider. However, there's no need to worry, as this guide will help you look for the exemplary aspects and find the best option possible
FAQs
What is the best type of gaming laptop?
The right kind of laptop for you depends on what you want to use it for and what your budget is. Are you looking for a casual gaming experience or do you want the full-on, hardcore gaming experience? Different types of laptops offer different advantages and disadvantages. If you want to game casually, an ultrabook will work great. If you're looking for a more immersive experience, a powerful gaming laptop with a high resolution screen will be better suited to your needs.
Do I need to buy expensive additional features for a gaming laptop?
Gaming laptops are notorious for having loads of extras that are often unnecessary and not worth the extra expense. However, there are some features that you may benefit from having on your laptop: a backlit keyboard, longer battery life, fast charging time, touchscreens, and removable batteries come to mind. These features may cost more but they can be well worth the investment if they work with how you plan on using your laptop .
How much RAM do I need for gaming?
You need a minimum of 8GB of RAM for gaming. However, for the best results you need to choose a gaming laptop with 16 GB RAM.