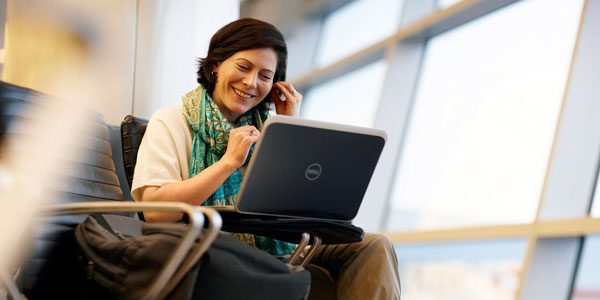 Connecting with the outside world is important to many people during their travels. But, some of us are at airports with nothing but a smartphone and no internet connection. Not all hope is lost! The next time you find yourself in an airport without private WiFi, use these five methods to explore the usage of free WiFi at the airports. 
If you're traveling and need to stay connected, then you know how important WiFi is. But it's not always easy to find a place with free WiFi. You can, however, use the knowledge in this guide to help you get connected for free in your next airport experience. If you're looking for ways on how to get WiFi at airports without a data plan or overpriced international hotspot, then read on to learn about the top 5 driving ways to connect.
Airports are one of the most frustrating places on earth. Between long lines, expensive food, and no WiFi, you're left with more than enough reasons to be annoyed while waiting for your flight. But there is a way around this by using one of these top 5 ways to connect at the airport today.
How to Connect with WiFi at Airport
1. Get a portable WiFi hotspot and take it with you when you go through security:
This is the easiest way to get connected, but it's also the most expensive. You can buy one for $200 or just use your smartphone as a hotspot for about $10/4 hours of internet time.2. Use a public WiFi hotspot:
Public hotspots are available at airports in most major cities. They're free, which means you don't need to worry about having enough money on you to pay for connectivity, but they might be slower than other options if there are many people using them simultaneously.3. Use your phone as a hot spot:
Most smartphones have an option to turn the phone into an access point to give other devices access to their wireless network. This is an easy way to connect your laptop or tablet computer to the Internet without purchasing any extra hardware.4. Rent out airport wifi hotspots:
Some airports let you rent out airport wifi hotspots for around $5-10/hour, which is much cheaper than buying one outright or using your smartphone as a hotspot.5. Pick up a local SIM card while at the airport:
Related post: Inflight WiFi on the Top Budget Airlines (Low-cost Carriers) of America 
5 Ways to Connect to Free WiFi at the Airport Today
Check if the airport already has free Wi-Fi
The free Wi-Fi at airports is a wonderful resource for travelers. But if the airport doesn't have free Wi-Fi, you can still make use of it by using one of these top 5 ways to connect at the airport today.
Some airports offer free Wi-Fi. However, some of them are so small that the signal is weak and can't be used. It's much easier to use a hotspot from your phone than it is to try to find a signal on your laptop.
If the airport you're traveling to doesn't have a good enough Wi-Fi signal for you, try using an app like Wi-Fi Finder or Airport Wifi Finder. They will help you find the nearest Wi-Fi connection for free or for a fee.
It's also important to check if your airline offers free WiFi before you leave home. This can help you avoid those pesky airport fees and make the waiting time a little more bearable!
Use the already existing map to find Wi-Fi passwords
One of the most frustrating parts of waiting for your flight is the lack of WiFi. But don't worry, maps are here to help! By using the map on your phone, you can find nearby airports and find Wi-Fi passwords for them.
If you've ever been lost in an airport, then you know that GPS doesn't always work very well in airports. While it's not as accurate as WiFi signals, it's a lot better than nothing. With this method, you'll be able to get directions to nearby airports and find Wi-Fi passwords for them too!
But there's one more reason this method is so helpful: It lets you avoid long lines at the airport. If your flight is delayed or canceled, you can save yourself a lot of time if you just go ahead and use the map to search for nearby airports and WiFi codes instead of waiting in line at the airport itself!
Google maps
Traveling is all about efficiency, so it's important to take advantage of the technology at your disposal. In this day and age, you cannot be without connectivity, so make sure to spend time finding out what wi-fi hotspots are available near your current location and then connect to one as soon as possible.
There are a variety of ways to find which locations provide free Wi-Fi. One way is by using an app like WiFinder or Airport Wifi Finder that will show you which airports offer free Wi-Fi. If you're in a hurry, there is also always the option to simply ask around for where the wi-fi hotspot may be located.
Another great way to find free wifi hotspots is by downloading Google Maps onto your phone or tablet and looking for places with "Free" next to them. This can help you identify airports that may have free wi-fi as well as places like coffee shops and restaurants nearby.
Downloading Google maps on your phone can also come in handy if you're trying to find the best place for food on your flight home. You'll be able to use Google Maps' search function to find restaurants that are closest or have good ratings in relation to where you're
Check out FourSquare
FourSquare is a location-based social network that allows users to find friends, share locations, and keep an eye on the happenings of their city. You can also use it to find new experiences. Facebook is a social networking website that allows you to create a profile with all your information and connect with friends and family.
Finally, Twitter is another social media platform where you can post updates about your travels as well as send messages to others. With these three websites/apps, you'll be able to stay connected while waiting for your flight!
Use the mall/restaurants/coffee shops, hotel, or cafeteria WiFi at the airport
If you're stuck in a long line at the airport, try to find WiFi in the mall or one of the many restaurants or coffee shops. With these options, you can still make use of your time while waiting by catching up on emails, shopping online, and social media.
Additionally, if you're staying at a nearby hotel or staying with friends/family in the area, ask them to pick up some WiFi for you. The hotel might even be willing to do this for free!
Another option is using public WiFi. If there's an open hookup near your gate that's public, it would only take a moment to connect and get back into work mode. This way, you don't have to worry about paying an expensive fee for data while stuck on hold over an extended period of time.
Lastly, if there are tons of people around with computers then there should be a coffee shop or restaurant nearby where they can purchase WiFi so you can stay connected as well!
Let's play with the Boingo paywall!
Boingo's Wi-Fi is one of the best options for consumers looking for a secure and reliable connection.
There are often long lines at airports and in this video, we'll show you how to use Boingo to avoid waiting and get some peace of mind.
If you're someone who has trouble connecting to WiFi, or if you're just looking for a little peace of mind, check out this video on how to break through the airport walls with Boingo.
Related post: Which North American Airlines Provide InFlight WiFi?
Google free airport WiFi
Google is one of the best resources for finding WiFis, and in most airports, you can find free airport Wi-Fi. This is a great way to stay connected with your contacts on social media or be productive with your work. Just use Google's airport search tool to find the WiFi that's right for you.
Another way you can use this resource is if you're waiting at an airport terminal, but the WiFi isn't in the area where you're hanging out. All you have to do is walk outside and search for wifi near your gate number. Your journey will be much easier when you can stay connected while on the go.
Related article: List of European Airports That Provide WiFi: The Ultimate Guide 
Apple airport WiFi
Despite the extensive line of airport WiFi hotspots, many travelers still prefer to just sit and wait for their flight. If you're one of these people, you can use an Apple airport WiFi hotspot to connect to your personal devices. This will allow you to relax while waiting in line and avoid any lines that may have formed at the airport's available WiFi hotspots.
This is great because airports are often overflowing with people who need Wi-Fi. Even if they're not using it, they're still nearby—so this is a great option for anyone looking for some downtime.
If you travel internationally and don't have access to an Apple airport WiFi hotspot, there is always the option of buying a pre-paid international data plan from your carrier.
Is airport wifi free?
While it's true that most airports offer free wifi these days, it's not always reliable. So if you're going to be stuck at the airport for a few hours, here are a few ways to enjoy the time spent there.
1. Follow your favorite social media accounts
Social media can let you stay connected with people back home while stuck at the airport. It's also a great way to keep up with what is going on in the world, and what events might be happening nearby that you might want to check out next time you go through an airport.
2. Use your laptop or tablet
While waiting for your friend or family member in line ahead of you, use your laptop or tablet to browse online and stay entertained on social media without having to worry about battery life on your phone or how much data you'll use up on a monthly plan.
3. Download podcasts and audiobooks
If you find yourself really bored while waiting in line, try downloading some podcasts and audiobooks to listen to or read during your wait time. It's also a good idea if you have children who might be bored as well!
How to get internet in the airport
The first and most obvious way to stay plugged in while you're at the airport is to bring your own data plan. If you don't have an unlimited data plan, make sure you're checking your data usage so that you don't go over your limit. You can also use public WiFi hotspots in airports to get connected.
If you forget to pack the necessary equipment for a long flight, many airports now have free WiFi available for travelers waiting at the airport. It's a good idea to check with your airline before leaving home. Many airlines offer their own free-to-use service, too.
If these options aren't hi-tech enough for you and if you're going to be spending the majority of your time traveling without internet access, consider buying a portable hotspot device like Google Wifi or Netgear Orbi instead of tethering from your phone's network connection. This will give you more reliable connectivity and faster speeds than relying on traditional networks.
Another option is purchasing international data roaming service for your smartphone with T-Mobile, Verizon Wireless, AT&T, or Sprint/T-Mobile prepaid wireless plans as well as WiBro or Global Roaming for iPhone and Android devices.
How to connect to airport WiFi on Android
If you're an Android user and want to connect to WiFi at the airport, it's super simple.
First, download the free app from the Google Play Store called "Wi-Fi Finder." You'll find a ton of airports listed in the app, so you can search for your location. Once you have found your airport, tap on it to view the WiFi information. It will show you which networks are available, as well as their passwords.
Next, enter these details into your device's settings menu. Search for "Wi-Fi" and select your network once it appears under all networks on your device. If that doesn't work, try restarting your device or downloading the official Airport app if available in Google Play Store.
You can also use WiFox as shown below:
How to connect to airport WiFi on laptop
Some airports provide free WiFi. With that in mind, you can connect to airport WiFi on your laptop. Before you head to the airport, use an app like Airports Connect or Airport Wifi Finder on your phone to find the best airport WiFi connection near you.
Once you're near an airport, it's a simple process of scanning a QR code located at the top of the terminal building using your phone's camera and connecting with your laptop.
There are also many apps that provide useful information about airports in different locations across the world, including areas where there is no official WiFi available. You can use these apps to find out about nearby attractions and other important information for your trip!
Which other ways can I use to make the stay at the airport comfortable?
There are a lot of ways to make the airport easier to manage. One way is to use these five simple tips:
1. Buy an airport-specific phone charger.
2. Bring your own food, even if it's just some snacks and water.
3. Plan your time so you don't have to wait in line for long periods of time or get stuck near a place you don't want to be anymore.
4. Bring your own WiFi device, as most airports offer free WiFi, but it can be slow and unreliable at times.
5. Consider wearing headphones with noise cancellation technology so you can block out everything else going on around you and focus on what's important: your phone call or meeting waiting for you on the other end.
Related article: How Does Airplane WiFi Work? History of Inflight WiFi
Conclusion
Want to connect to WiFi in the airport but are afraid it might be complex? Don't fret, here are some top ways to connect without paying.
1. Connect with free WiFi at Airports: If you have a smartphone, you can easily connect to airport WiFi by downloading an app that can be found on the App Store or Google Play. There are even apps that let you know what airport WiFi is currently active and working best for your device.
2. Check if the airport already has free Wi-Fi: If the airport you are traveling to has free Wi-Fi, you don't need to do anything else. But if it doesn't, there are a few options available to you as listed in the third section of this article.
3. Use the already existing map to find Wi-Fi passwords: This is an easy way to connect with free Wi-Fi in the airport. Just download an app called Wi-Finder and type the airport code into the search bar in order to find active networks near the airport.
4. How to get internet at the airport: If you don't have access to a smartphone that can connect with WiFi, you can use an internet compatible laptop or use
FAQs
Do airports offer free WiFi?
Yes, most airports now offer free WiFi, but it's not always reliable. To ensure a high-speed connection, find the nearest Starbucks and log in from there. Some airports do, but you'll have to check your carrier's website for their WiFi hotspot details. For others, there is no free WiFi but you can get it at the cafeteria, mall, or hotel at the airport.
What are some tips for using WiFi while waiting at an airport?
If you're traveling internationally, consider using data roaming as opposed to paying for international minutes on your phone plan. This will allow you to make calls and text without incurring any charges for data usage!
If I'm afraid of missing my flight, how can I use the airport WiFi?
You'll be able to use your phone's GPS feature to locate your gate and check if the flight is boarding yet. If it is, then you'll know that you're running out of time!
Is free airport WiFi secure?
Free WiFi at airports is used by several users. It can be a good method for scammers, viruses, hackers to get to your devices. Therefore, if possible, avoid free airport WiFi for your sensitive devices.