There are some cases when you might need to connect your WiFi router to a mobile hotspot. For example, if you're vacationing and using a foreign SIM card that doesn't allow tethering, or if you want to use your cellular data to provide internet access for your guests at your house.
Tethering usually requires a paid account with your wireless provider, but there are other ways you can make this work.
If you have a laptop or computer with WiFi capabilities, then you are able to connect to the internet through a wireless router. The wireless connection is usually faster than that of an Ethernet cable connection, but not always.
If you are unable to connect your computer to the internet via the wireless connection on your home network, then you may need to use your phone as a mobile hotspot or create a second network using a WiFi router. You can do this by following the steps below.
There are a few different ways to connect your wireless router to a mobile hotspot, so we'll go over the four most effective methods.
Method 1: Connecting wirelessly
Method 2: Connecting through USB cable
Method 3: A combination of wireless and connection via USB
Method 4: Connecting your mobile hotspot to a laptop or computer and then connecting the computer to the WiFi router.
Related article: Best MiFi Devices (Mobile Hotspot) for International Travel
Connecting Your WiFi Router to a Mobile Hotspot
There are two broad ways to connect your WiFi router to a mobile hotspot. These include:
 Using a USB cable to connect a router to the tethering phone directly. There are several routers with which you can hostspot your phone using a USB to the WIFi router. This enables you to keep your phone charged while also giving your router the chance to handle the internet transmission.
Connecting your mobile hotspot to a laptop or computer and then connecting the computer to the WiFi router. In this case, you will need a USB cable and an Ethernet cable for the transmission.
What is a mobile hotspot?
A mobile hotspot is essentially a device that creates a Wi-Fi signal for your smartphone. It can be used with any phone or tablet, but the most common are iPhone and Android devices.
There are two types of mobile hotspots: WiFi-enabled (which connect via USB) and connected to a wireless network (usually an internet service provider). The latter can be bought directly from the manufacturer or from other vendors on Amazon or eBay.
You can speed up the mobile hotspot on iPhone or Android devices for better connectivity.
What a WiFi Router does
A wifi router is one of the most important devices in your home. Most households have at least one and some people have more than one. It's what connects your computer, tablet, laptop, smartphone, television, or any other device that uses Wi-Fi to the internet.
The best part is that routers are also very affordable and easy to install! If you need a new router for your home, office, or wireless hotspot – this guide is for you!
Tethering your phone to your router via USB cable
When you tether your phone to your router, it's sharing its data connection with your router. That allows you to use both at the same time without degrading either one. This method also keeps your phone charged while it's tethered. However, it only works with carrier-approved methods and requires rooting or acquiring the Nexus device in order to work properly.
There are several routers that let you tether your phone directly to the router using a USB cable, which keeps your phone charged, and lets your router handle the heavy lifting.
This method works only with your carrier's 'official' tethering method (unless your phone is rooted or Nexus). You can even connect the router directly to a VPN (and you'll probably want to) to prevent your mobile company from throttling your non-mobile streams (yes they can tell).
The Asus firmware gives you the ability to tether from your smartphone. The ASUSWRT firmware allows for tethering from a 3g, 4g, or 5g device thus enabling you to enjoy a connection from your router. Otherwise, you can use OpenWRT and DD-WRT to tether.
Steps
In order to tether your smartphone to a router wirelessly through a USB cable (some require root), follow these steps:
Plug the USB connector from your mobile device into the appropriate port on the back of your router (make sure it's in a place that won't be disturbed by other cables)
Power on the router and wait for it to boot up. This may take a few minutes.
Go to the router settings on the GUI or app and select the USB application. The Asus router will allow you to select 3G or 4G device rather than the storage and printing devices.
Once booted up, open settings on your phone and enable tethering by pressing 'add connection option' in settings. You will need to nnable USB Mode (Android Phone) by 'WAN Type'>'USB'>USB Mode 'ON'> 'Android Phone' as USB device type> 'Apply' to make settings permanent. Then Enable tethering on your phone
Open System Settings on your computer and check if there are any problems with the connection between your phone and computer- if not proceed with next step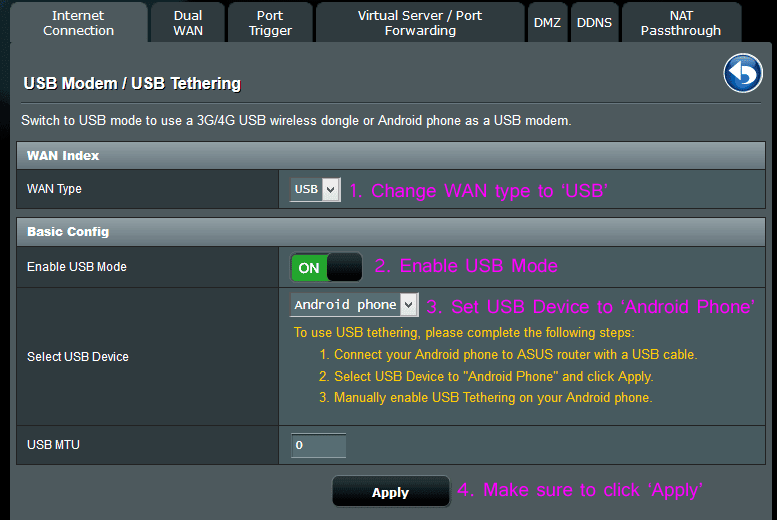 Tethering your phone to your computer via USB and then 'share' your tethered connection to the Router via ethernet cable.
For all other router types (or non-official tethering apps) you can tether your phone to your computer via USB and then 'share' your tethered connection to the router via an ethernet cable.
Connect a wired Ethernet cable into the WAN port of one of the router's Ethernet ports (for example, if it has four Ethernet ports on its back, connect it into either of the four ports). It should be fast enough for internet traffic going in both directions. The speed will vary depending on how many devices are connected at once.
In order to connect your mobile hotspot to a wifi router, you will need:
A router that is compatible with tethering
A mobile device that is compatible with tethering
USB cable
A computer with a USB port and internet access
One or more ethernet cables
Steps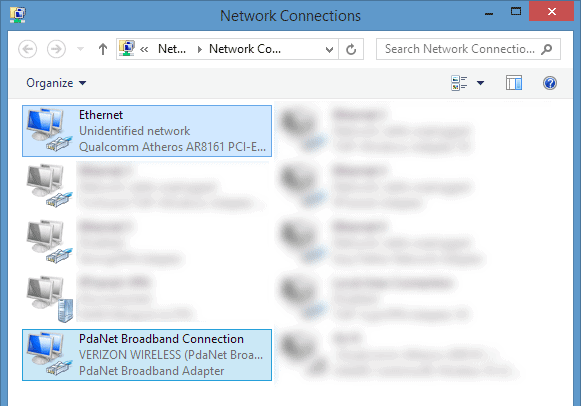 Connect the Ethernet cable from your computer to the LAN port on your router and then to your phone.
On your phone, open Settings and select Wi-Fi and connect to the name of your router.
Use the micro USB cable to connect it to your computer via a USB port on each device.
Open your Network adapter settings by Control Panel > Network & Internet > Network Connections. Here check for Your Ethernet/Lan connection and Tethered connection settings
Setup the connection sharing either through "Network Bridge" or through "Connection sharing"
Now that you are connected, go back into Settings on your phone and enter the hotspot name (this can be anything) in order for you to use it as a hotspot when needed.
Verify if your connection is working
Finally connect the router. Make sure that the settings on the WAN type is WAN (not LAN, or USB, or other options).

Related post: Improving Your Verizon Jetpack and Mi-Fi (Mobile Hotspot) signal strength
Connecting wirelessly
Connecting your wireless router to your mobile hotspot wirelessly is the easiest method. To do so, just follow these steps:
Connect your laptop or computer to the WiFi network connection on the back of the wireless router.
Download and install an app on your phone that allows you to connect to a hotspot.
Turn on the hotspot on your phone and wait for it to scan for WiFi networks in its range.
When you see the name of the WiFi network, click on it and enter the password for that connection (if necessary).
You should now be connected!
The challenge with this method is that most smartphones do not have this capability and most routers do not have a way of connecting wirelessly.
Pros and cons of a smartphone tethered to router vs mobile hotspot
A smartphone tethered to a router has more flexibility with its use. The router can handle the heavy lifting and your phone will be charged, so you won't need to worry about the battery dying on your phone. Moreover, the method can help you get around the mobile data caps. Moreover, you can connect a bigger number of devices to the router. Finally, you will get a better range for your connection. However, this method does require that you have access to your computer or have someone else's available for you to use.
A mobile hotspot is another option that lets you roam around without having to worry about running out of battery power. There are some downsides with this option, though—most notably, it may be harder for others around you to use your internet connection (because your smartphone will be using it).
Conclusion
In today's day and age, we rely on our mobile devices to be our go-to resource. It's where we find food, entertainment, work, and the internet. If you're a frequent traveler or someone with a new device that you need to connect to in order to use it at home or abroad, you may have found yourself in need of a hotspot. We have shown you the two broad ways for connecting a mobile hotspot to a WiFi router.
Related post: Portable WiFi Router vs Mobile Hotspot: Which Is Better for You?
FAQs
Can I connect my mobile hotspot to a router?
Yes, you can connect your mobile hotspot to a router. All you need to do is to bridge your router to the hotspot. The process is simple if your router allows for USB tethering. For tethering via a computer, it will take a few additional steps. This allows for a longer range, connection to multiple devices, and reduced battery power usage.
How do I connect my hotspot to my router?
There are two methods: Method #1 is by connecting the hotspot directly to the router (using a USB cable) and Method #2 is by connecting the hotspot into a computer's USB port and sharing it with the router via an ethernet cable.
What is a WiFi router?
A wifi router connects your mobile device, or wifi hotspot, to the internet so you can use the internet from wherever you are. A wifi router also helps transmit and process data over a wireless network by using radio waves.
What does a wifi router do?
A router is a device that can connect your home to the internet through Wi-Fi or wired connections, which then allows you to plug in other devices in order to share an Internet connection with them. It's not just for computers either; routers can be used with almost any device that has an Ethernet port.
Additional reading: Convert Your USB Dongle to a WiFi Router: A Step-by-Step Guide